Carpentry is becoming rapidly popular in all the major areas of Australia. The work of a carpenter is satisfyingly rewarding. It's a fantastic profession if you wish to manifest your creativity in something made by your manual labour. Certificate III in Carpentry is a certification commonly sought after in Australia. This is one of the most valued qualifications for any Australian carpenter.
Carpentry is an enjoyable profession of limitless creativity. Carpenters not only restrict their work to wood but also apply various other materials. And the fun fact is that there are many types of carpentry. You have a wide range of specialities to choose from in this trade. In this article, we'll talk about the process of becoming a carpenter in a nutshell. We will also discuss some key personal attributes you should develop to have an advantage in this profession.
Prerequisites of Becoming a Carpenter- Apprenticeship and Certification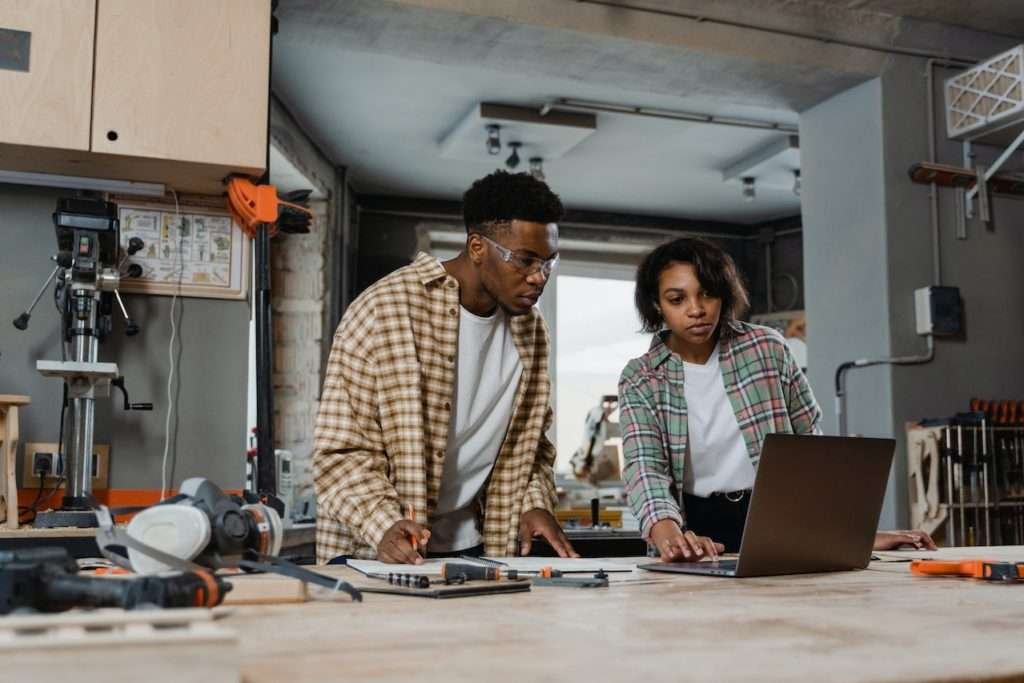 According to a recent Australian government report, almost 130,000 individuals work in this profession. The financial and non-financial benefits are extremely appealing in this job. There are several types of carpentry jobs like joiner and green carpenter. Other carpenters focus on commercial, residential or industrial roles. The diverse skills and knowledge associated with carpentry jobs require time to master. The two main prerequisites for becoming a carpenter are apprenticeship and certification.
Apprenticeship
An apprenticeship usually lasts four (04) years and uses a hands-on approach. You can learn a set of skills directly by working with a master or professional. This practical process is a great way to learn about the work culture, techniques, industry standards and customers of carpentry. You can start working with a construction company or a master carpenter for an apprenticeship. Most places require you to pass Year 10 only. But some places also need you to have some additional qualifications. This depends on the type of carpentry you're choosing. Before choosing a particular place for an apprenticeship, study to know if it fits your goals.
Certificate III in Carpentry Australia
Certifications are an amazing way to further enrich your skills and experience. Certificate III in Carpentry is the most popular certification in this field. This course covers a wide range of topics on carpentry tools, materials, techniques, styles and applications. It normally takes over 9 months to complete this course and get certified. This is an essential addition to your apprenticeship journey to becoming a carpenter.
Will I Only Require Carpentry Course No Apprenticeship?
We suggest you complete an apprenticeship and achieve a Certificate III in Carpentry. This will give you a nice blend of theoretical knowledge and practical skills. You will have a monitored experience in an apprenticeship. A certificate course will help you to explore more areas of your creativity. It will also assess your skills against industry standards. Therefore, combining both is highly recommended for becoming a successful carpenter.
Is There Any Certificate III in Carpentry for International Students?
There are notable institutes in Australia that provide Certificate III in Carpentry to international students. This is a great way for them to become carpenters in Australia. As mentioned before, the demand for carpenters is rapidly rising in the Australian job market. This profession is on the Medium and Long-Term Strategic Skills List (MLTSSL), a testimonial to its importance. International students can choose carpentry jobs due to their high demand and salary. It's also a great career path for becoming a Permanent Resident quickly. International students can confidently pursue Certificate III for Carpentry for a better future.
Necessary Attributes
You need to develop some attributes and qualities to succeed in this work. Carpentry is fun and rewarding, but projects will require patience and focus. Some of the important qualities you need for this role are listed below.
Physical Fitness
As a carpenter, you'll have to work with your hands and various tools and machines. This can be physically demanding. Many people love this involvement in carpentry projects. But if you're somebody who gets scared at the concept of physical labour, you might want to look at other options.
Patience and Focus
Initially, you will make many mistakes when participating in a project. A carpenter has to be patient and focused on minute details. This is one of the main attributes that separates a skilled master from a beginner. Carpentry can be frustrating but is enjoyable as well. It's important not to give up easily.
Team Work and Communication
You should be able to communicate effectively with your clients and your team in this job. Without proper communication, you won't understand the specifications of your tasks. The connections that you grow in this industry will also give you newer leads.
Be Comfortable with Mathematical Calculations
Carpentry projects often require carpenters to accurately measure dimensions using several tools. You need to be able to perform simple calculations quickly. It's also great if you can use measuring tapes effectively.
Conclusion
Carpentry jobs are in high demand all over Australia. You can do amazing in this career by developing your skills and knowledge through proper certification and apprenticeship. You can even apply for a white card to enter the construction industry. You can pursue more advanced courses in other areas, like the building and construction industry.
Before choosing any course or apprenticeship, conduct deep research. This will ensure that you are trained perfectly for starting this exciting career. Last but not least, try different approaches. Carpentry involves much creativity. Experiment with different styles and techniques to polish your skills.