Along with the growth of the human race, people are getting more dynamic and more constructive. Nowadays, people prefer wooden things more than concrete and other materials in their homes. So, the demand for wooden makers or carpenters has risen, and the use of wooden things has become more popular too. In terms of this profession, a carpenter is considered an expert wood furnisher who can build construction frames for furniture and do other relevant wooden designs.
Besides everything, construction and other artistic things are the main attraction of the carpentry business in Australia. Mainly, most carpenters are from remote areas where most residences are made with wood for partitions and roofing. There is an estimated count of carpenters in Australia, which is around 150,000 units (According to the Australian Government). Now you may think why people are switching their careers in this. And what are the reasons for this massive growth in this industry?
So, if you still have any confusion regarding these jobs, then just continue with the lines and get to know some basic benefits of working as a carpenter.
What Are The Benefits of Working as A Carpenter in Australia?
Talking about various job benefits as a carpenter, there are lots of beneficiaries in the carpentry jobs that attract people to start a career in Australia. Let's make a short overview based on employee's survey what they really admire in the job facilities as a carpenter.
The Career Path Growth
As we already get to know, approximately 0.15 million people are already working as a carpenter. Many of them are newcomers in this industry even though there are so many different jobs are available. Some are very much comfortable engaging in this job sector, and the rest of them also have the best opportunities. Though the requirement of becoming a qualified carpenter is not easy, the possibilities of an infinity career loop are high in the construction industry.
Variety of Career Paths
Residential: Builds homes and apartment buildings, including framing, stairs, decks, and roofs.
Joinery: Works in a workshop crafting timber products like cabinets, windows, and doors.
Commercial: Builds shopping centres, hotels, offices, and mixed-use buildings like installing flooring, ceiling, and windows.
Industrial: Constructs the scaffolding and other essentials for infrastructure, roads, manufacturing plans, and tunnels.
Woodworking: Builds, fixes, or maintains timber products like furniture or antiques by shaping wood and adding varnishes.


Not A Boring Job
Suppose you think you want to be involved in a job that may bring you a healthy life. Then here is an option for you. You may need to spend hours and hours in the workshop or outdoor space setting. In this career, your direct physical activity is needed, and you also need to have very sharp hands for cutting and installing. So, rather than a boring job, you may get some thrill in this carpentry job to show your creativity.
Well-paid Job (Source)
Carpenter gets well salary rather than different outdoor jobs. The average carpenter salary is around 75,000 AUD per year based on 280 salaries. If you recall that part, an entry-level position got approximately 62,500 AUD annually. A mid-career carpenter with 4-9 years of field experience earns an average total compensation of 70,000 AUD to 80,000 AUD yearly. Besides that, most experienced workers are expecting to get 85,000 AUD to 90,000 AUD per year.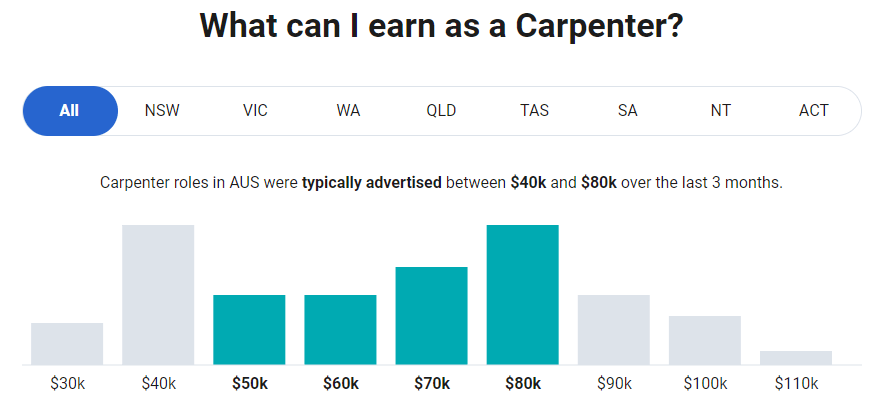 (Includes tips, bonus, and overtime pay)
Job Facilities and Security
Started of A Carpentry Business
You may have been doing great in carpentry jobs for a long time now if you are thinking of expanding your career reach from a job platform to your own business in the carpentry industry. You have vast opportunities to coordinate with a new thing. Starting a carpentry business in Australia is not that difficult to start; all you have to the fulfil the essential requirement and have a business license to begin.


Solo Job Satisfaction
Work-life balance: Capacity to balance the work-life and personal responsibilities under all the conditions.
Career progression opportunities: Possibility to move into more senior roles or better positions shortly.
Pay / Salary: Being fairly reimbursed for your valuable time and expertise with a well-payoff.
Job satisfaction: Feeling of fulfilment or enjoyment you get from your role and more job fulfilments.
Job security: Knowing your job is secure, and your experience is attractive to employers.
Variety of work: You don't have to go for the same piece of art, and there is diversity in daily tasks.
Get Big Project
When you become an experienced and well-known carpenter around your area, holding that position, you may be lucky to get a bigger project with a big amount of money from local construction sites. Sometimes, you may get many projects works proposals among those sites and can build a good relationship for further works. The more you get jobs, the more you will get to set up a network with those construction managers.
Conclusion
Let's make it easier for you to understand that the opportunities for carpentry careers can be assorted. With so much on offer, you can decide your unique area of interest as a carpenter. While carpenters are assigned to construct, build, install, repair, and erect wooden frames, foundations, walls, fixtures, and more on the list. They usually work on residential, commercial, and industrial projects with wood, plywood, and wallboard as they have very different sectors and are more sophisticated in this job line. So, the remuneration and other benefits help to grow their career and self-satisfaction.